Uber Driver Requirements
You can sign up now, click here to apply to drive for Uber using my customer referral link. You will be eligible for promotions in your driving area. Or click here for Lyft Driver Requirements.
Requirements
At least 21 years old
Have licensed driving experience of one year in US (3 years if under 23)
One valid driver's license in US
Use a 4-door vehicle that's eligible
Proof of residency for your city, state or province
Current auto insurance in your name if driving personal car
Have an in-state registered car for driving
Current Vehicle safety inspection
Own a smartphone: iPhone 5s or newer running iOS 11+, Android devices running 7+
Take a forward facing driver profile photo
Complete and pass an online screening which reviews driving record and criminal histor

y
In short, sign up to drive. Then share required documents like license, registration, proof of insurance, safety inspection and photo. Next, complete screening for background check. Finally, log in to the Uber App to start driving for pay. Your special sign on bonus that you get by using my code or directly going through this site has a deadline. The time frame you are given to complete a certain amount of rides (depending on your city) starts as soon as you sign up! So make sure you have all of your documents updated and organized beforehand so that you will have the best chances of getting your bonus by getting on the road ASAP! This is a BIG chunk of cash that you don't want to miss out on!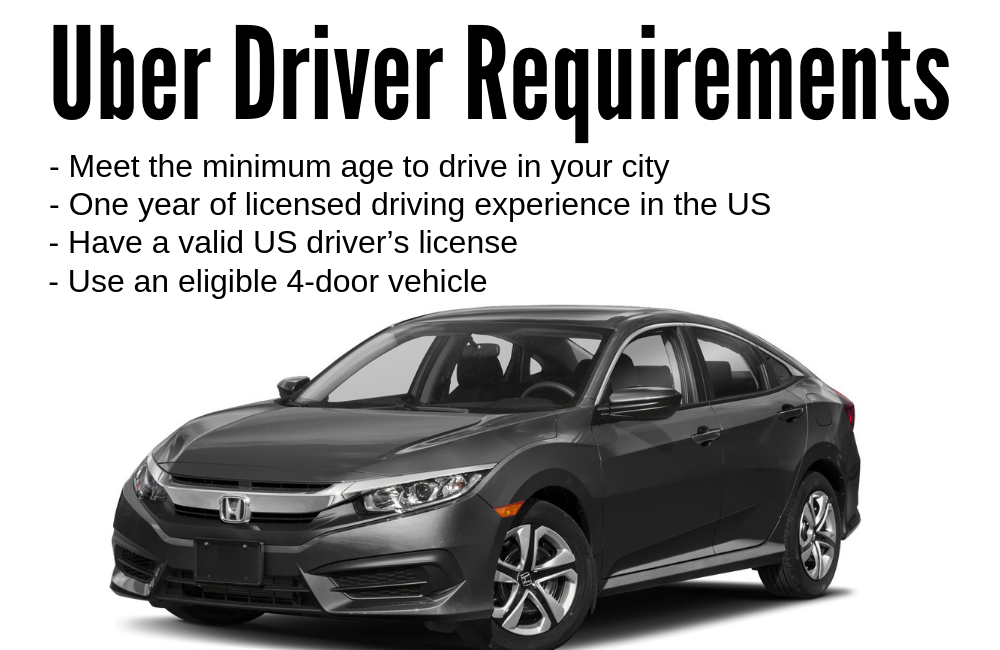 Does Uber Do Background Checks?
Yes, Uber does background checks for drivers. The screenings are done by the company Checkr, Inc. and takes 3-5 days to complete on average.
The background check includes a review of your Motor Vehicle Record. In addition, a criminal background check is administered.
A background check will vary in cities. Rideshare regulations and local laws govern drivers based on criteria specified by the city.
Here is a quick list on things required to pass.
Zero accidents with a fatality
No reckless driving charges
Clean criminal history reports
DUI or drug related offenses (ZERO)
Void of insurance charges
Absolutely no driving with suspended license charges
Uber Car Requirements
To drive for Uber you will have to have a specific vehicle that meets the Uber vehicle requirements. In 2023 the car requirements for Uber X are fairly simple.
UberX Vehicle Requirements
4 Door vehicle which can transport a minimum of 4 passengers
New or nothing older than 15 model years old
No salvaged, reconstructed, or rebuilt titles
Rental prohibited unless approved by Uber programs like FAIR Car Rental
Cosmetic damage, missing parts, commercial branding or taxi cab paint jobs not allowed
How to become an Uber driver
Read the easy  step-by-step guide to becoming an Uber driver here.
Here is a quick summary of the necessary steps:
Step 2. Complete a car inspection to meet Uber requirements.
Step 3. Wait patiently for your background check to clear.
Step 4. Push the Go Online button in the app and start driving.
Uber Driver Insurance Requirements
All Uber drivers are required to have car insurance that meets the minimum financial responsibility of the state. While logged into the driver app Uber maintains automobile liability insurance as well.
So, how does Uber Driver insurance requirements work? Uber insurance works like this: When Uber Driver is not logged in to the driver-app their covered by personal insurance policies. When a drive turns the app on they are covered by liability insurance from Uber.
Once a rider is picked up a high level of liability insurance is activated. This is $1 million per incident excess liability coverage. The rideshare insurance policies cover liability claims and not the drivers vehicle. Personal insurance claims will have to be filed for the car.
How To Drive for Uber Eats
UberEATS is a delivery app that allows Uber customers to order food on demand from nearby local restaurants. The UberEATS delivery drivers pick up and drop off food orders as independent contractors. Many Uber drivers choose Uber Eats versus driving for DoorDash or Postmates.
What are the Uber Eats driver requirements? You can become an Uber Eats driver without driving for UberX. Current UberX drivers can simply opt-in to start receiving UberEATS request.
Uber Eats Driver Requirements
Uber Eats Driver Requirements
Meet minimum age requirement to drive in your city
Drive a 2-door or 4-door car manufactured after 1998
Vehicle insurance, vehicle registration proof, and a valid driver's license
1 year driving experience
What to do if you don't meet Uber driver requirements!
So, what do you do if your application to drive for Uber gets denied? Every driver is not accepted. Here are some reasons Uber headquarters may not approve you.
You are under the required age of 21.

Uber requires all their drivers to be 21 years old. 47 states recognize adults at the age of 18. Seems Uber has more reasoning behind their age rule.
You are missing a Social Security Number, or not a legal U.S. working resident.
If you are an immigrant, I suggest consultation with an immigration lawyer. Your visa document may prohibit you from working in the U.S., but Uber may allow you to sign up with an SSN # you have. This could violate the terms of your issued visa, and is not recommended.
The background check administered was NOT passed.

If Uber declines your application due to a failed background check, request it yourself. It's important to see what is hindering you from making money as an Uber driver. If what's listed is correct it will take about 7 years to drop off your record.
Your Uber car doesn't qualify.
If your vehicle doesn't meet the guidelines for driving with uber, simply upgrade. You don't have to buy a new car, used is just fine. Uber even has a leasing program for drivers to get started. The payment for your used or leased vehicle will be offset by the money you earn with Uber weekly.
You lack ALL the in-state documents required.
To drive for Uber the following in-state documents are mandatory:
License
Car registration
Car insurance
If you need to secure auto insurance the following companies issue free quotes online.
Liberty Mutual Insurance
21st Century Insurance
Compare.com
Conclusion: Making Money with Uber
Simply follow the information above and fill out the Uber driving application. This is the best way to see if you meet the Uber driver requirements. It only takes minutes to complete. If you sign up with my personal referral link you or ANY family member can get a CASH bonus.
Click here and make up to $3,000 with my referral guarantee.